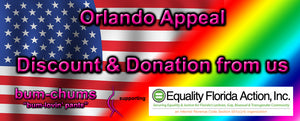 Bum-Chums LGBTI Brand Proud to support Orlando
As the world comes together in support for our LGBTI community, in the wake of the terrible shooting this week in Orlando, Florida, we have seen many heartfelt messages and offers of support.
Both as a reporter of underwear news and brands in general it's perhaps no surprise that the British LGBTI supporting brand with a cheeky name of Bum-Chums is at the forefront to offer their support. As well as supporting LGBT events and appeals directly, they have offered the following.
They have vowed to give you 15% Discount for this month and next and they vow to pledge 15% of any sale using the code: ORLANDO to the Orlando Victim's appeal in Florida.
Speaking from the United Kingdom, Craig, the hands-on owner of Bum-Chums told us "I've just spoken with David Costa at Equality Florida in the USA today and pledged to give whatever support our small but proud gay-brand company can offer".
Craig has not always boasted in the past of helping Pride events, nor of their charitable donations only recently supported the Tampa Pride event in Florida and continues to do what he can for similar events as far away as Johannesburg, South Africa. Bum-Chums is only a very small, independent brand from the UK, but with a big heart and lots of enthusiasm to make sure they operate ethically, including manufacturing in-house to avoid slave labour abroad.
"I offered David at Equality Florida that we would send to their Go Fund Me Account online. We vow to donate 15% of any sale using the code to their fund, as well as reward our customer for helping with 15% themselves. People can also see the link to donate without buying pants too. We just want to do our bit."
Equality Florida as well as being an active participant in political work for equality in the USA are also coordinating and providing mush needed support including counselling for those affected by the tragedy.
On behalf of everyone here, we're proud to be associated with brands who help and support others, and send our thoughts and prayers to those so badly hurt and devastated by these sad, sad events.
---